Hailun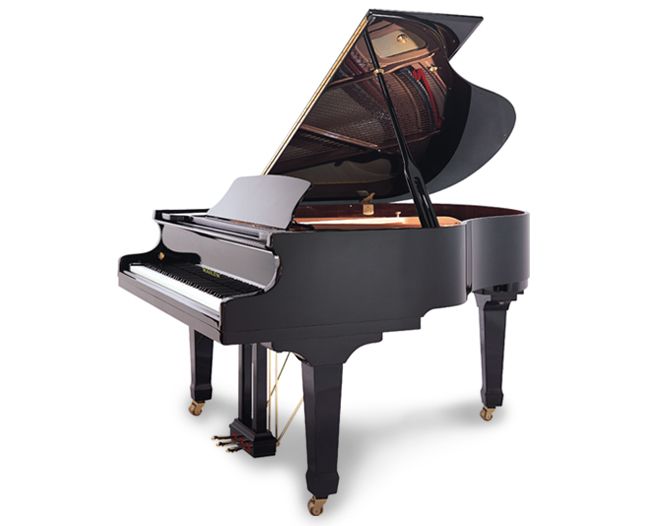 Hailun is the only piano company to win the "Acoustic Piano Line of the Year" award for 3 years straight. The Model HU5 (50" Studio) and their Grand Model HG 178 (5'10"Grand ) also won the individual awards for "Acoustic Piano of the Year".
Hailun began making piano parts in 1986 and sold them to piano manufacturers worldwide. In 1995 they became a full- fledged piano manufacturing facility with over 400,000 sq. ft. of production capacity. They hired the finest piano designers from Europe, Japan and America to design their pianos. They used the finest materials available in their pianos. German strings and hammers, traditional sand cast plate and Spruce soundboards produce the unique tone of the Hailun Piano –not too bright and not too warm; tone that lends itself beautifully to any style of music performed on the Hailun Piano.
An all wood action made from European hornbeam wood and designed for maximum performance, touch and speed; and the sound, consistency and quality available from piano makers several times the cost of a Hailun.
All the above and a 15 Year Transferable Warranty make the Hailun an unbeatable combination of quality and value!
Check out their website
Weber
The Weber Piano Company was founded in 1852 by Albert Weber, who learned his piano building skills in Germany and brought them to the United States. The pianos received medals at the Philadelphia World's Fair in 1876, The London World's Fair in 1887 and the Paris World's Fair in 1889.
Weber pianos were endorsed by many famous artists including Madeline Schiller, Constantin Ivanovich, Moriz Rosenthal and Ignaz Paderewski. The Weber Piano was also owned by famous world figures such as His Holiness Pope Pius X, His Holiness Pope Pius XI, King of Spain Alfonso XIII, Queen Elizabeth II of Great Britain and Wilhelm II of Germany.
Today, the Weber Piano is Manufactured by Young Chang.
Unlike the Young Chang Piano which has a high tension scale design with hard hammers for a modern sound, the Weber Piano uses a lower tension scale design with softer hammers to produce a warmer, more romantic, subdued sound with more sustain for a more traditional European sound.
Check out their website
Perzina
Perzina Pianos were originally designed and built in Schwerin, Germany. They later moved to Lenzen, Germany and are now owned by Music Brokers International B.V. of the Netherlands. Perzina verticals have several interesting features rarely found in other pianos, including a "floating" soundboard that is unattached to the back at certain points for freer vibration, and a reverse or concave soundboard crown.
Perzina verticals sound very good, particularly in the bass. They use veneered soundboards made entirely of Austrian White Spruce and the hammers are from Renner or Abel in Germany. The strings are from Germany – Degen or Roslau. The Delignit pinblocks are also from Germany, as are all the veneers. All piano designs are the original German Scales.
All manufacturing has been moved to the Yantai –Peraina factory in Yantai, China, because of the cost of manufacturing in Europe.
Check out their website
Young Chang
In 1964, Yamaha and Young Chang entered into an agreement in which Yamaha helped Young Chang set up a full-fledged manufacturing operation. Yamaha shipped partially completed pianos from Japan to the Young Chang factory in Korea, where Young Chang would perform final assembly work on stringing, cabinets and actions. As time went by, Young Chang built more of the components to the point where they were making virtually the entire piano. In 1975 the agreement with Yamaha ended when Young Chang decided to promote their own brand name, thus becoming a direct competitor to Yamaha on the international stage.
In 2008, Young Chang hired noted American piano designer Delwin D. Fandrich to redesign the Young Chang . New scale designs, redesigned cast iron plates, cold pressed hammers and floating soundboard configurations all helped develop a more modern sound with greater projection.
Check out their website
Hardman Peck
The Incredible Value of Hardman Peck Pianos:
Hardman Peck was the official Piano of Franklin Delano Roosevelt in the White House and also the official piano of the Metropolitan Opera in New York City in the early part of the 20th century. Hardman Peck has all of the same top of the line features as other grand pianos selling for 200% to 300% more. The Hardman Peck Petite Grand gives the same visual impression of a full size piano – not a "toy-look" brands.
The Hardman Peck grand has a European look traditional style with concert casters. It has a wonderfully light, fast action. The use of German felts for the hammers – for a rich, mellow European tone unlike the bright tone of a Yamaha or other Asian models. With their exquisite design and features, Hardman Peck pianos are priced to provide customers with the most value of piano for their money.
Check out their website